We produce a range of sew in personalised fabric labels and they are also a great alternative to custom woven labels, our labels can be highly personalised, are made with quality materials and a bespoke in house developed process that sets us apart from other sellers. There are several sizes available including common 10m and 25mm, we can also print on both the front and rear on some of the larger sized labels allowing you to have additional contact and/or instructions on your labels.

We don't sell woven labels but our alternative is the same size and offers a greater deal of personalisation options that traditional woven name labels just can't, of course our labels are very durable and have been extensively tested making them a viable choice.



Whether you make handmade items, have an existing business with products or are just looking for a label to sew into a sew uniform or even for a care home resident we can almost certainly help you. We're based in Cambridge UK and make all of our own labels there at our production facility, a while back we were using traditional label printing methods and discovered they weren't particularly durable or long lasting. So we decided to develop our own process and from then on it allowed us to produce labels that do not fade, can be highly personalised and printing on a wide range of satin ribbon sizes and lengths etc.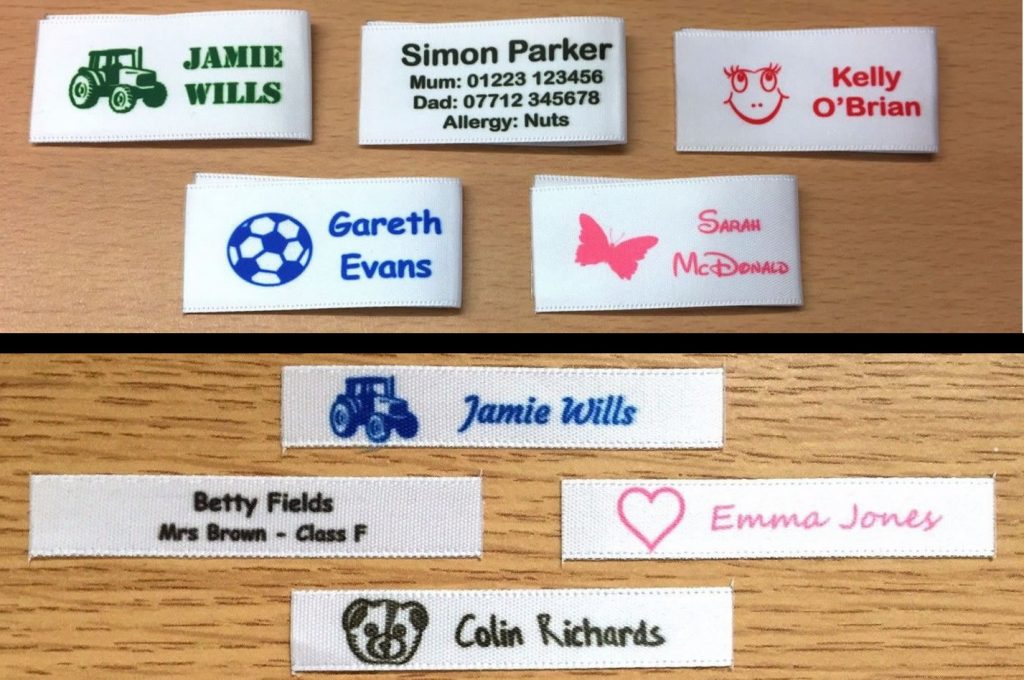 Primarily we produce name labels for both school and nursery children and also care home residents, making custom or bespoke labels for your projects isn't a problem either. Our unique production process lets us print in full colour e.g. your logo and allows us to offer you a huge amount of label personalisation options. Our standard personalisation options include 10+ fonts, 20+ solid print colours and 50+ optional motifs and these are great for name labels, you may already have some artwork or a design in mind, in fact you can let us know the text etc you would like printing and we will mock up a preview for you. If you like the preview then placing an order is easy and if any changes need to be made that's no problem either.
Over the years we have built quite a reputation for quality, consistency and great customer service with thousands of fabric labels sold to many hundreds of happy customers. Ordering from us is easy and all of our labels are cut and sealed to prevent fraying, each order is then placed into safe and secure packaging and shipped via a prompt delivery service e.g. Royal Mail 1st class. We also keep a copy of your design should you wish to order further custom or bespoke fabric labels.
If you would like to find our more and to buy our custom woven and fabric labels please visit one of the links below, thank you.
Buy Direct -OR- eBay Shop